The Badge of Theta Chi is one of the most uniquely fashioned in the Greek community. It was designed by Egbert Phelps, an honorary member and assistant founder of Theta Chi Fraternity.

A Brief History of the Badge of Theta Chi Fraternity
Excerpts from The Manual of Theta Chi Fraternity, Sixteenth Edition, 1992.
Egbert Phelps, Assistant Founder and Honorary Member
The original Theta Chi badge was designed by Egbert Phelps, assistant founder of the Fraternity, sometime before the founding date. The records show that the first badges were ordered by Freeman from a Boston jeweler on April 12, two days after the founding … the members, by vote, decided to wear the badges in public for the first time on June 9, 1856…
The original badge was very much like the official badge today, except that it was slightly larger, and lighter and not as beautifully made as our present day badge.
A diamond shaped badge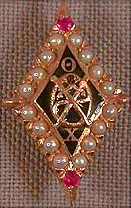 At the convention in 1907 a resolution was passed permitting the badge to be reduced sufficiently in size to be mounted on a diamond shaped background. Thus, the diamond shaped badge, familiar to many of the older alumni, came in to use. For a number of years it was optional with a member whether he wore the official badge or the diamond shaped badge … At the Sixty-Fifth Anniversary Convention in 1921 by convention resolution the diamond shaped badge was made official. At the Seventy-First Anniversary Convention in 1927, a resolution was passed again making the original snake and swords badge official…
The Theta Chi badge is considered one of the most unusual and distinctive in the entire fraternity world, and is entirely unlike any other badge in appearance.
A fully set badge with Phi chapter dangle