Theta Chi's New Member Pin
Joining a fraternity is a new, exciting, and educational experience for anyone who goes through the process. It is a time where you begin to familiarize yourself with the Fraternity; its history, its values, its members, and its meaning for you in your personal life. This page will serve to provide information on the entire process of joining Theta Chi, all the way from Recruitment Week to Initiation.
Recruitment Week
Recruitment Week is a time where Theta Chi, along with the other fraternities on campus, will open their doors to the men of NDSU to come see what a Fraternity is all about. This is a time where we get to know more about you, and you have a chance to explore Theta Chi and ask questions that you may have about fraternities, Greek Life, on-campus events, and other topics. We always have events during this week that allow you to meet some of the men of Theta Chi as well as other men checking out what Greek Life has to offer students at NDSU. Dates for Recruitment Week should be posted on the main page, as well as advertised on campus, but feel free to stop by anytime, Recruitment Week or not, to see what Theta Chi Fraternity can offer you.
The Bidding Process and New Member Education
After Recruitment Week, the bid process begins. The men of Theta Chi, along with other fraternities, will distribute bids to men who they feel would be a great addition to the fraternity. Recipients of bids may choose to accept or decline them, and they may begin attending the New Member Education classes. As Recruitment week was a time for us to get to know you, the new member classes are a way for you to get to know Theta Chi. There are normally two meetings a week, and topics covered include a study of the Greek alphabet, fraternities and sororities in the Tri-College area, Theta Chi's History both nationally and locally, The By-Laws and Constitution of Theta Chi Fraternity, and the Creed of Theta Chi. The classes last 4-6 weeks, and during this time new members are encouraged to visit the house and get to know more of the brothers. The last part of new member education is one week where members are initiated and assume full membership.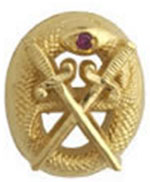 The Official Badge of Theta Chi
We are always looking for guys who are serious about challenging themselves to become better students, better leaders, and better men. If You or someone you know are interested in joining Theta Chi and would like more information, please contact us and we'd love to talk with you!
"From the outside looking in, you can never understand it; From the inside looking out you can never explain it…"